July 09, 2014
Etsy Dachshund Mobile Review and Giveaway
I am so excited to share this dachshund mobile with you today. It comes from the
Jello '07 Etsy shop
and is easily my favorite nursery item that I have so far. This baby better love dachshunds because I can't stop getting dachshund items for her!
I was sent this beautiful multi-colored handmade dachshund mobile to review. It retails for $52 on the Jello '07 Etsy site. The colors can be customized based on what your nursery colors are. I chose this multi-colored one because I thought it was so cute and would match with everything since it has a bit of every color in it.
Erica, the owner of the shop, was very kind to work with and shipped the item quickly. While she was working on making this for me, she kept me up to date how it was going and when it would be finished which was really nice.
The dachshunds are made of felt and it seems pretty sturdy. I plan to hang this high up above the crib and I know that baby will love seeing all the colors (once she can see a bit better).
Thank you so much to Erica who made this beautiful mobile. It means so much to me!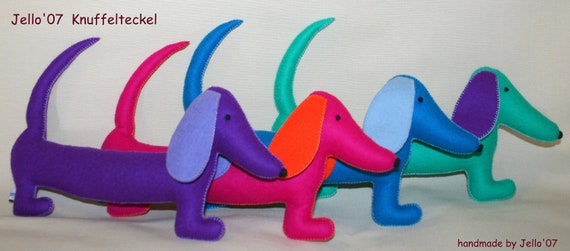 a Rafflecopter giveaway