November 28, 2016
No-Bake Chocolate Peanut Butter Pretzel Bars
No-Bake Chocolate Peanut Butter Pretzel Bars are simple to make, only require 6 ingredients, and are full of that salty-sweet flavor that everyone loves!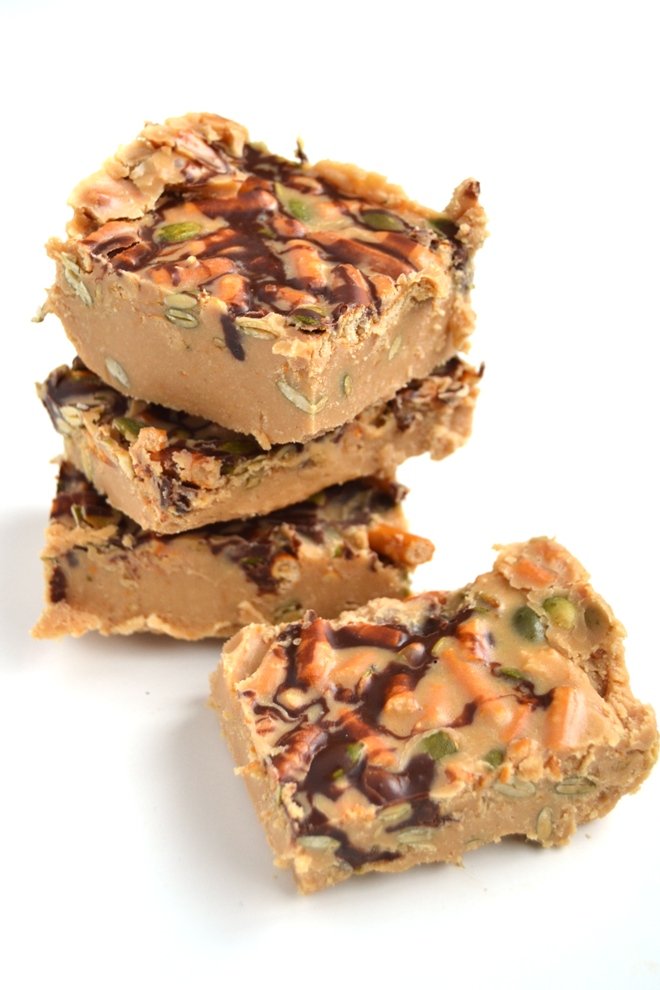 I want to love baking. I really do. There is something about having to add just the right proportion of ingredients to a recipe (or it may not turn out right) that is hard for me. I am the kind of cook that adds a dash of this, a little of what I have on hand, plus a couple of extra ingredients for nutrition.
Since the holiday season is coming up, I wanted to make some "baked goods" for my family. I decided to make bars that were made with a little bit healthier ingredients and were actually no-bake so that they were easier and I had less of a chance of messing them up!
They turned out so good and are perfect for the holidays, especially for any of you that are not proficient bakers like I am not. I used peanut butter as the base for that delicious peanut butter flavor all through the bars. I also used coconut butter for healthier fats.
My daughter thinks that these are like candy which I am okay with! It is a dessert that is a little bit healthier with lots of healthy fats. I loved how thick and chewy the bars are- they are similar to fudge.
No-Bake Chocolate Peanut Butter Pretzel Bars
Servings: 16
Ingredients
Nonstick spray
1 1/2 cups peanut butter
1 cup coconut butter
3 tablespoons maple syrup
1 cup pretzels, broken into pieces
1/4 cup pepitas (pumpkin seeds)
1/4 cup semi-sweet chocolate chips
Instructions
1. Spray an 8 x 8 baking dish with nonstick cooking spray.
2. Combine peanut butter and coconut butter in a bowl and microwave for a minute until runny. Mix in maple syrup, pumpkin seeds and pretzel pieces.
3. Pour into baking pan and smooth with a spatula.
4. Melt chocolate chips in the microwave. Drizzle melted chocolate over peanut butter pretzel bars. Top with additional pretzel pieces as desired.
5. Refrigerate until firm. Remove from pan and cut into pieces.
Enjoy!
**This dessert stores well in the fridge for days.