October 02, 2014
Here Comes Baby Part 5 Giveaway
1.
Dainty Dreams Boutique Frame
- I received the most gorgeous frame for baby girl from the Dainty Dreams Boutique on Etsy. This frame shows my style to a T. I love the colors pink and cream. I love shabby chic style. I love roses and I love damask pattern. This custom frame is so beautiful and I have it up on the shelf in baby girl's room. You are able to choose your own colors, backgrounds and of course initial. The frame looks beautiful in the nursery and matches well with my theme. You can purchase one of these custom frames for $20. For more information, see the store
policies
.
2.
Lambie & Me Organic Swaddle Blankets
- I was recently sent these swaddle blankets to review. They are so soft and are made of a nice and thin muslin material of 100% cotton. They are pre-washed for comfort. I like the grey and red polka dot design as well.
Through our baby products research, I have read a lot about swaddles and plan to swaddle our baby daily so this will come in handy. These blankets can also be used as a nursing cover, for spit-up and for baby to lay on. A two pack of these blankets is $29.95. They are also available in a caterpillar design which is cute.
3.
A Casa do Guaxinim Pillow
- As you know, I love dachshund themed anything and found an awesome Etsy shop that sells this dachshund pillow. Our nursery is pink and green themed and this matches very well in there. This shop sells awesome mobiles as well that are so cute! They come with all different animals on them including sheep, dogs, alligators, birds, foxes, etc. The pillow that I was sent to review is very affordable at less than $14! They come in different colors and are nice quality.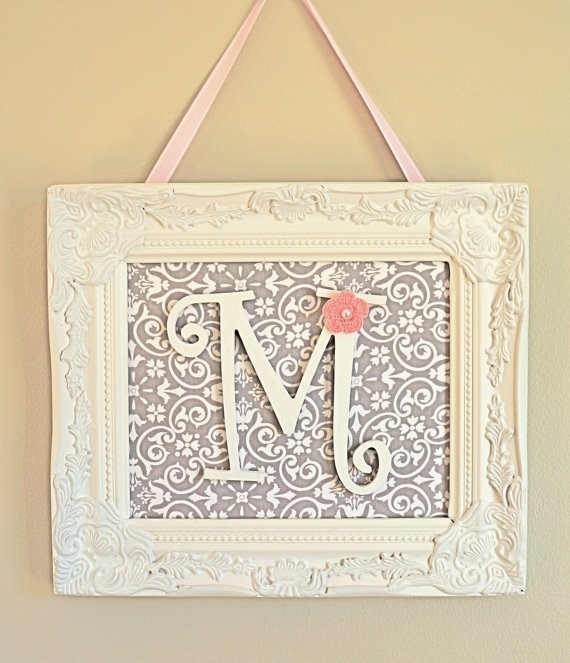 The giveaway will be for this custom frame from Dainty Dreams Boutique with your choice of initial to one winner.
a Rafflecopter giveaway