July 23, 2018
What Fuels Me: Outdoor Adventures
Thank you Lorissa's Kitchen for sponsoring this post. Lorissa's Kitchen makes delicious snacks using high quality meats like 100% grass-fed beef and chicken raised without antibiotics! Click here to purchase Lorissa's Kitchen on Amazon!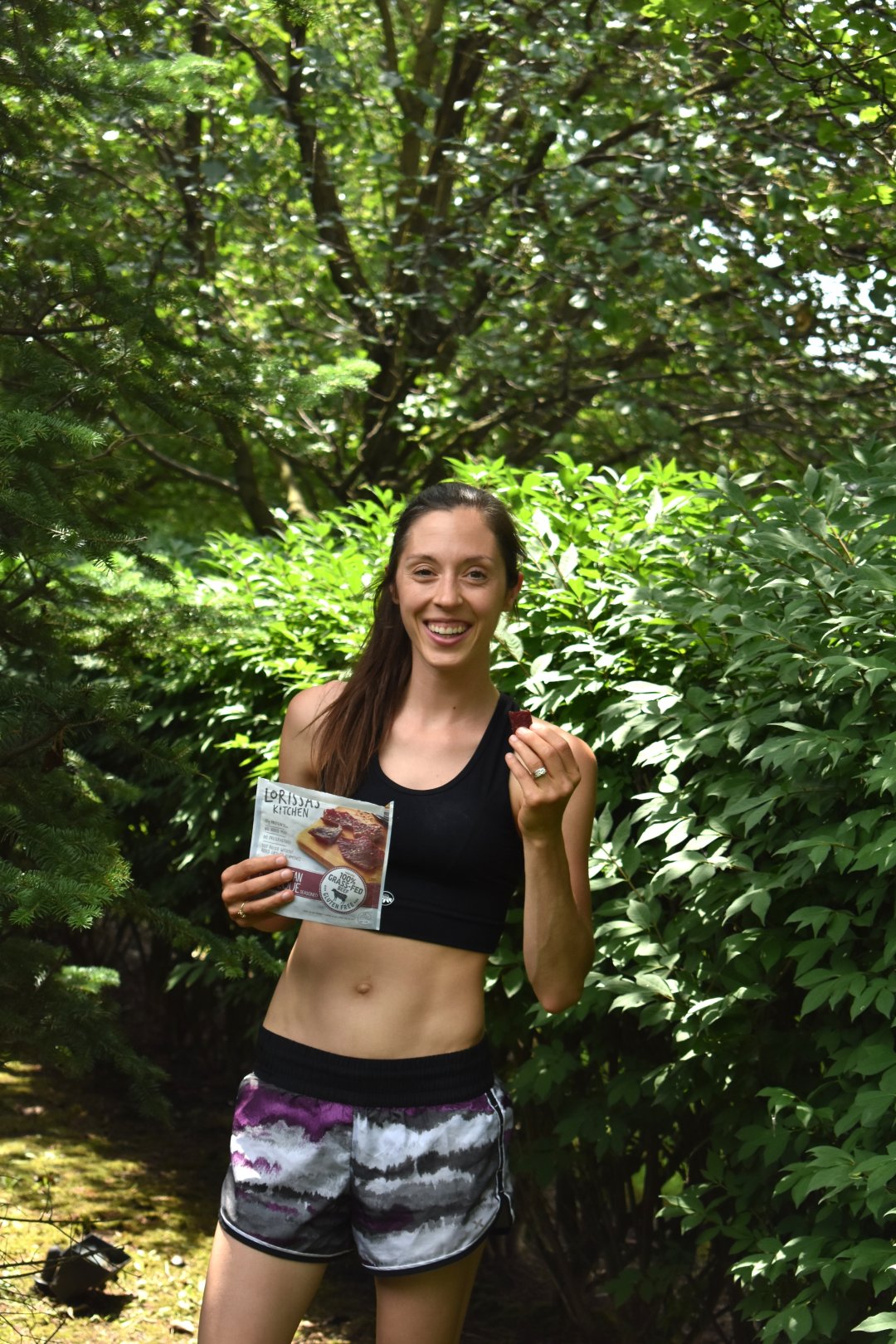 Click the tags in the picture above to shop directly!
Life is so good right now and I've been thinking about what makes me the happiest. Of course #1 is time with my kids, husband and our families but number two is doing anything outside. I feel so amazing getting outdoors and going on adventures. The world is our oyster this summer as Troy is done with work until September and I work my own hours from home.
We have fun to-do lists a mile long and choose different fun places to go several days per week. I think that life is too short to get caught up in doing things you don't enjoy. Since I love outdoor adventures so much, I am going to try to fit in as many as possible in our short summer here in Michigan which goes all too fast.
A new thing that I'm absolutely LOVING is going kayaking. My cousin lives right on a fast moving river and we take her kayaks 7 miles upstream and end right at her house. It is about a 2 1/2 hour trip if you're actually trying and can be longer if you want. It is such an adventure with having to go over some rocks, having to paddle hard to get away from fallen tree branches and making sure that you don't flip over. This kind of adventure gives me life!
Nature is is truly gorgeous! We are also enjoying going to the different state parks and metro parks all around Metro Detroit and there is just so much to do and see! We just checked out a metro park that I used to run cross country meets at and walked all around looking at the lake, went to the playground and then the splash pad with the kids. We went to the Upper Peninsula in late June and had the best time hiking waterfalls. It was my happy place for sure!
I am super lucky that the kids love being outside too. Something that Troy and I do with raising our children is teach them to appreciate the little things. The second that we get in to the car, they don't get a show turned on, I ask Adalyn to look outside and tell me something interesting that she sees. I don't want my kids being "bored".
I want them to be able to see the beauty in small things and create their own fun. When we were at that metro park with my mom, Adalyn asked if we could stop and look at the beautiful lake. I was so happy because this is exactly how I want my children to feel about nature.
Of course, no adventure is complete with the Hernandez crew without a bunch of snacks. I pack our diaper bag full of snacks for even an hour out of the house because we all get hangry in two seconds. I always bring fresh fruit, a veggie like carrots, some kind of bar and for protein,
Lorissa's Kitchen
snacks. My husband and daughter are 100% obsessed with it and love bringing it for their snacks.
It is the perfect snack for any adventure because it doesn't need to be refrigerated and gives you a nice boost of protein to make it through any of your adventures. I love snacky type lunches most summer days to enjoy when we're out and about and love doing something like this: Lorissa's Kitchen meat, hummus and sliced vegetables, fresh fruit and maybe something like peanut butter and jelly or cheese and crackers. Too many times, I felt like lunch had to be this well put together meal but really, a variety of nutritious snacks together are perfect.
When we are out on adventures in the hot sun, I get super hungry and the kids do as well. We need food ASAP and I love Lorissa's Kitchen because I know that it is a nutritious snack for all of us that helps fuel us for our adventures. They come in several flavors including Korean Barbeque Beef Steak Strips, Ginger Teriyaki Chicken Cuts and Original Beef Steak Strips. They are made with the highest quality meat including 100% grass-fed beef and chicken raised without antibiotics. They're gluten-free and have no preservatives, added nitrites, added MSG or added growth hormones. Learn more about what
Lorissa's Kitchen
is made of.
I was selected for this opportunity as a member of CLEVER and the content and opinions expressed here are all my own.