November 02, 2017
Hawaiian Teriyaki Steak Burgers
Hawaiian Teriyaki Steak Burgers feature freshly ground burgers, flavorful teriyaki sauce, grilled pineapple and red onions and melted cheddar cheese.
Hawaiian Teriyaki Burgers
Hunting has been such a huge part of my family's lives for so many years now. It used to
be my grandpa and dad that hunted together. I have the fondest memories of them hunting together on my parent's 80 acre farm in the thumb of Michigan. I am teared up just thinking about how even when my grandpa was ailing and elderly, he still got to go hunting with my dad and brother one last time. I still miss him 12 years later.

My dad taught my brother to hunt and for years, it was Dzia-Dzia (my grandpa), my dad and him going hunting together. I will always remember those bright orange outfits and my brother being so little going out with the guys. My sister, mom and I never wanted to be part of the hunting but we supported our hunters by having dinner ready to go when they got back to the house.
In 2007, when I started dating Troy, he fit right into my family and quickly learned to be a hunter. My dad gave him a safety course, let him borrow his guns and some of my grandpa's old hunting gear. Ten years later, my dad, brother and husband all go hunting together each November. Hunting holds a special memory in my heart of family spending time together, supporting each other at the farm. This is not supposed to be an emotional post but man, I have found myself crying the whole time while writing this!!
As we approach opening day 2017, I want to share a recipe that we make for venison burgers. I've been making venison burgers with my family probably since I was about 12 years old. We would spend our weekends at the farm growing up and we would often eat meals like venison sloppy joe or venison burgers which I would help cook.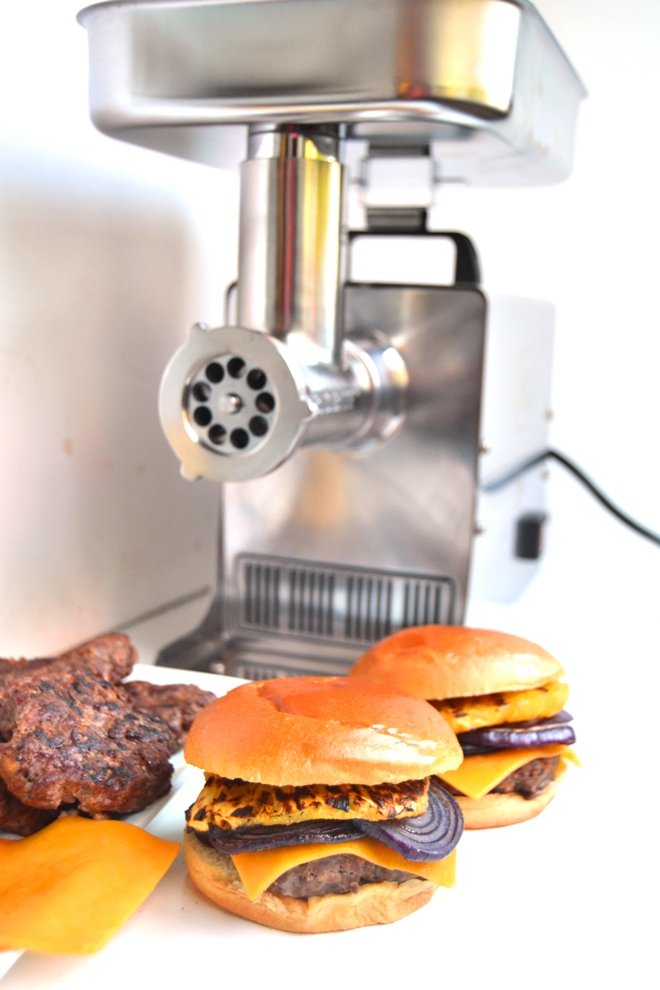 Hover over the photo to buy this meat grinder!
We use 1 1/2 pounds of ground venison meat to make about 5-6 burgers (depending on how big you like yours) and make these fairly often. In fact, I rarely ever buy beef because we have access to lean and nutritious venison that is healthier than beef. Back in my early days of blogging, I shared this Venison vs. Beef nutrition post comparing the nutrition between the two meats.
I recently got an awesome opportunity to grind my own meat for burgers and was so excited to try it. I purchased the Big Bite® Grinder from LEM™ Products online. The grinder was easy to use and gave me the perfect meat to use for my burger. So delicious! Plus, how cool is it to be able to say that you ground your own burgers? I love that I know exactly what is in my burger instead of a bunch of junky ingredients that I don't want.
These Hawaiian Teriyaki burgers are a recipe that I've been wanting to make for quite some time! I grilled the pineapple and onions for maximum flavor. The melted cheddar cheese provides so much flavor as well. The teriyaki sauce is super flavorful and delicious and goes well with all of the flavors in the burger. My husband ate two of these burgers right away and could not stop saying how awesome they were. In fact, he was a huge help with setting this up and assisting me- something that rarely happens with blog recipes so it was super fun!
Hawaiian Burgers
Yield: 4-6
Hawaiian Teriyaki Steak Burgers
Hawaiian Teriyaki Steak Burgers feature freshly ground burgers, flavorful teriyaki sauce, grilled pineapple and red onions and melted cheddar cheese.
prep time: 15 MINS
cook time: 15 MINS
total time: 30 mins
INSTRUCTIONS
Use the LEM Big Bite Grinder to grind steak into ground meat (follow directions).

Combine ground meat with breadcrumbs, egg, garlic, black pepper and teriyaki sauce to burgers and mix until meat is just combined, do not overmix. Shape into 6 burgers.

Grill burgers until they are desired doneness- about 4 minutes each side.

Meanwhile, spray grill or lightly oil grill and grill pineapple and onions until onions are caramelized and softened and both have grill marks- about 3-4 minutes per side.

Toast buns if desired and top with burger, cheddar cheese, pineapple slice and onion. Top with a dash of teriyaki sauce. Enjoy!
notes
**Feel free to use beef or turkey instead of venison for this recipe if you prefer.
**You can also use sliced cheddar cheese.
Here are some more recipes using venison:
Healthified Meatloaf with Roasted Potatoes
Spicy Chili
Garden Fresh Grilled Burgers
Stay up to date with updates from The Nutritionist Reviews on

Facebook

,

Twitter

,

Pinterest

.

Instagram

and

emails right to your inbox

.