July 06, 2017
How to Get Your Baby to Sleep Better
Disclosure: This shop has been compensated by Collective Bias, Inc. and its advertiser. All opinions are mine alone.
#
HappierFirstMoments #ForBetterBeginnings
#CollectiveBias
Sleep is probably the number one topic that parents with babies talk about. When you are not getting enough sleep, all you want to do is figure out a way to sleep better. I am by no means an expert on infant sleep but I am a mom of two kids and have learned some helpful things along the way.
My two kids are so, so different from each other already so we have learned some different tactics for what works for each kid. Adalyn had reflux and would scream and scream. Every night was super hard for at least a year and a half. Oliver is a much more relaxed baby and *knock the the wood*, has been easier for us.
Here is how we get our baby to sleep better:
1. Frequent feedings during the day
Oliver is breastfed and is fed about every 2 1/2-3 hours. I focus on making sure that he takes a full feeding as opposed to eating for a couple minutes and calling it quits. I make sure to feed him often so that he gets plenty of calories during the day so that he doesn't have to eat as much at night.

2. Swaddle baby like a burrito
We swear by swaddling our babies. Adalyn was swaddled until at least 6 months old and Oliver is going strong being swaddled at 2 1/2 months old. They sleep so much better when their hands are not flailing everywhere which they do not have good control of at this age.

3. Keep it dark and quiet at night
If Oliver does need to eat during the night, I feed him in the dark and then put him right back to bed. No lights, singing, talking, etc. This helps baby to know that it is not play time and that it is bedtime.
4. Have Dad feed baby a pumped bottle
This is my biggest tip that works the best for us. Since Oliver was 2 weeks old (we did this with Adalyn too), I pump a bottle when I feed Oliver first thing in the morning. That night, Troy feeds him a bottle between 11 PM-12 AM which helps me be able to get a bigger stretch of sleep. Also, I do not make as much milk in the evening as in the mornings so this way, he can get more milk and make it longer sleeping without being fed. This is also known as a dream feeding and Oliver does not even wake up for it. Troy feeds him right in his rocker and he does not even open his eyes.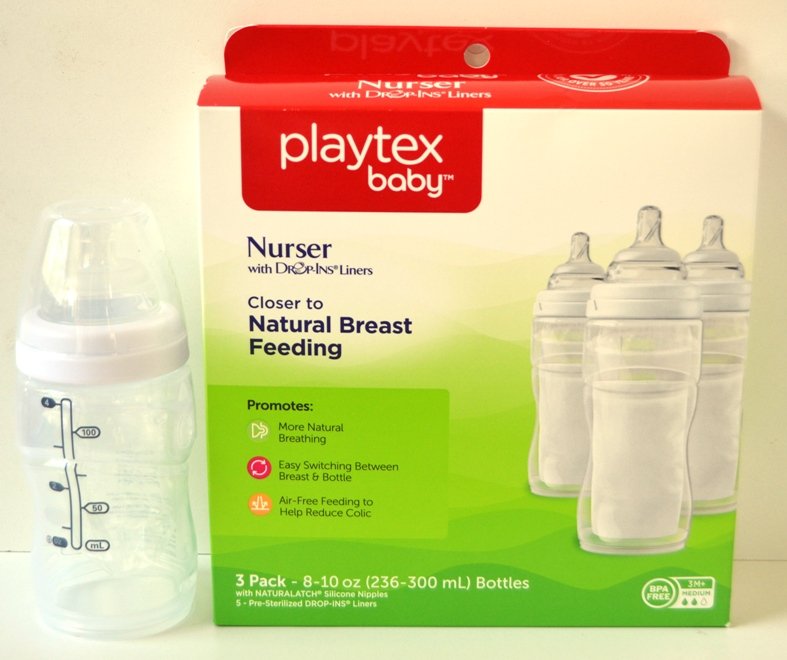 Hover over the photo above to buy these bottles!
A great choice is the
Playtex Baby
™ Nurser with Drop-Ins® Liners
bottles from Target. They are BPA-free and have NaturaLatch
®
nipples. They have different nipple shapes and flows for fit your baby's needs and preferences.
They have an easy to dispose liner for convenience and are supposed to be similar to breastfeeding- they simulate the same suck, swallow, breathe patterns like breastfeeding. The liner will collapse as baby eats to prevent air from mixing with the milk which can help to reduce colic.
It is easy to switch from breastfeeding to bottle feeding with these! If you buy 2, 3 pack Playtex Baby Bottles (Nurser or VentAire) from 7/1-7/14, you will get a
$5 Target gift card
!
5. Keep it cool
With having a baby with the weather being warm, we notice quite a difference that we never experienced with Adalyn. Oliver sweats a ton (just like his dad haha) and that makes it harder for him to sleep. When he is having a hard time taking a nap or falling asleep, we sometimes put him in his rocker in our finished basement because it is cool and darker than the rest of the house. He loves it and falls asleep much easier this way.

6. Have lots of playtime during the day
Oliver loves his playmat, looking at us, being loved on by his Big Sister and more. After each feeding, I make sure that he gets some "play" time before taking a nap. I think that this helps get him more tired for night.
Those are our tips for what is working for us right now to help Oliver sleep well! Let me know your best baby sleeping tips. I'm sure we all could learn something new!